---
It Was Really Cold
Date of Encounter/Sighting: Jun 26, 1998
Known Witness Accounts: Many (5 or more).
Event(s): Alien Abduction
Reported By: Mystery Gurl ( hippie@wtez.net )
Mystery Gurl's Story:
I was visiting an island that unfourtunately was in the bermuda triangle!! I had always been really "down to earth" and I didnt belive in aliens!!! i was lying out back, on a lawn chair as I drifted off to sleep!!! I woke up the next day in bed, I didnt worry because I figuerd my mom had carried me in there!!later that day I started to get pictures of weird things that I didnt remember!! I noticed a large scar on my side and I started to get worried!! the next night i stayed awake all night in the lawnchair. I noticed a bright light coming towards me. I sat up to get better look and then it felt like it exploded. I woke up on a freezing cold table tied down with no clothes on. i didnt see their faces close up, but I could make out a slight human formed head, long unusual fingers, and green skin. they didnt look like you would picture aliens. I was scared to death, so naturally I started asking questions, "who are you", "what do you want", "why me". all they did was stare. they stuck me in the neck with a large needle and now, here I am almost 2 years later, paralyzed from the waist down and obsessed with finding out why they did this to me. If anyone has any information please help me!!! I cant do anything dealing with my legs, so I talk to the internet, and eat!!! I really need someone's help. e-mail me if you want to help!!!
Thank You So Much, Mystery Gurl
---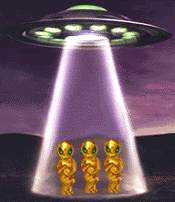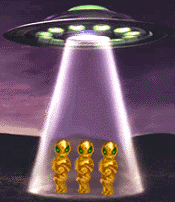 You're Viewing Page Six!
Click an Alien below to view another page, or ...
Click this Pic to return to Page one, or ...
Click here to send a Guestbook Email