---
Correction on Little Green Men
Date of Encounter/Sighting: Jun 18, 1999
Known Witness Accounts: Many (5 or more).
Event(s): Alien Abduction
Reported By: Adam Clark ( doc45@gamewood.net )
His Story:
I WOKE UP IN COLD SWEAT.I COULD HEAR A HIGH PITCH HUMMING NOISE C'MON FROM OUTSIDE.SO I WALKED INTO THE LIVING ROOM THINKING TO MYSELF''I'LL GO OUT THERE AND TEACH WHOMEVER THAT IS MAKING THAT NOISE A LESSON OR TWO.''SO I WALKED OUTSIDE STILL HEARING THE NOISE.I WALKED INTO THE FRONT YARD I SAW THE MOST AMAZING OBJECT.IT WAS TRANGLULAR IN SHAPE IT HAD ONE ORANGE LIGHT ON EACH CORNER.IT ALSO HAD ON PINK LIGHT IN THE MIDDLE OF THE OBJECT.I STARED AT THE OBJECT FOR ABOUT 5 SECONDS THEN.......... I'M IN A COLD DARK ROOM SITING ON A COLD METAL "IRON BOARD" THERE WERE THESE TWO "LITTLE GREEN MEN"THEY HAD POINTY EARS,AND LONG ARMS THAT WENT DOWN TOO THERE KNEES.THEN ONE OF THE BEINGS CHANNELED A MESSAGE TOO THE OTHER THAT I COULD HEAR THE MESSAGE WAS "WE CAN GIVE HIM THE IMPLANT NOW"I SCREAMED "NO!"THEN THEY STARTED TOO WALK TOWARDS ME.THE NEXT THING I KNOW IS I'M LOOKING AT THE SAME OBJECT GO UP IN THE SKY. I WENT BACK IN THE HOUSE(THE DOOR WAS UNLOCKED)AND WENT BACK TOO BED WITH ONLY BITS OF THIS ENCOUNTER LEFT IN MY MIND.THE NEXT MORNING I WOKE UP WITH MY UNDERWEAR ON BACKWARDS.
THE END: (NOTE MOST OF HIS MEMORY WAS RETRIEVED THROUGH HYPNOSIS)
---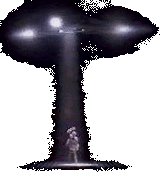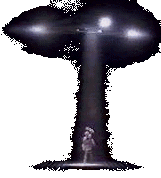 You're Viewing Page Five!
Click an Alien below to view another page, or ...
Click this Pic to return to Page one, or ...
Click here to send a Guestbook Email